Our Staff
Tara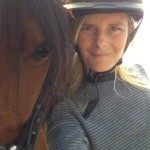 Tara Ward is the owner and head trainer at Morning Side Stables. Growing up riding and competing in Great Falls with her horses Sunny and Charlie, she continued to foster her involvement in the equestrian world throughout each new chapter in her life. Tara has an undeniable love for both children and animals alike and carried her passion for teaching with her as she attended college by working as a Montessori teacher. Knowing her journey in life would involve both animals and teaching, Tara was able to combine these two passions in perfect harmony with the founding of Morning Side. Since then, Morning Side has continued to grow and evolve to become not simply just a job for her, but a true sanctuary for anyone looking to escape the 9-5 hustle for a bit and reconnect with nature and their families. In her many years teaching children how to ride she has seen firsthand the positive impact that horses can have on a child's development and truly believes that these amazing animals are a gift to anyone's life. This passion has cultivated an immense amount of pride for the lovely riding school she has nurtured to maturity and Tara and the rest of the Morning Side Team look forward to a bright future ahead together.
Anna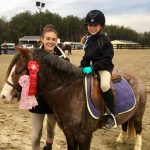 Anna is a student at George Mason University and a riding instructor here at Morning Side Stables. Anna grew up in Southern California and began her equestrian journey out west. After moving to Virginia in 2008, Anna continued to pursue her love of horses and found her passion in the sport of show jumping, though she also has several years of eventing experience. She has been riding and working with horses for over 11 years now. Anna first began instructing as a pony clubber by helping younger riders prepare for ratings and master new riding and horse care skills. After her and her horse Karma joined the Morning Side team, Anna began working alongside Tara and has nothing but love and gratitude for the wonderful lesson program she has become a part of. When not teaching, Anna can be found riding Karma around the fastest and highest courses possible, always looking for the next jump and adrenaline rush! Outside of riding, Anna loves any sort of adventure or outdoor activity as well as working with all other kinds of animals. Want to make her day? Bring your small dogs to Morning Side for some love and cuddles- extra points for the dogs with the squished faces!
Kristin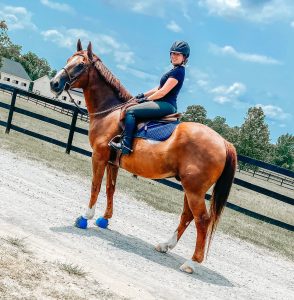 Kristin is the newest addition to the Morning Side team, and we could not be more excited.  Kristin started riding when she was 4 years old on Long Island, New York.  As she progressed, she showed in some of the top Horse Shows including The Hampton Classic, Lake Placid, Hits, as well as the Long Island show circuit. Kristin completed in equitation, hunters as well as jumpers, giving her a well-rounded view as an instructor.  Teaching and instructing has always been something that she in passionate about.  Kristin is excited to join the Morning Side team.